Encare offers an interactive, user-friendly web-based interface for the collection, documentation and follow-up of critical performance and quality parameters as outlined by leading Clinical experts in respective protocol based on best practice and evidence.
The data collected is interactive and offers immediate feedback on performance, which will generate significant and sustainable improvement of efficiency and quality of care as well as generate substantial Health care savings.
ERAS® Interactive Audit System (EIAS)
ERAS® Interactive Audit System (EIAS) has been developed based on the published guidelines for best practice from the ERAS® Society.The EIAS allows the hospital staff to track the adherence to the ERAS® Society published guidelines as well as analyze the connection between compliance and outcomes to continuously improve the care process in the hospital before, during and after surgery….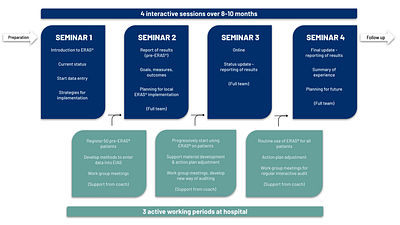 The ERAS® Implementation Program (EIP)

The EIP is an implementation and training program designed to assist perioperative care teams to implement, reach and maintain a high compliance level across the different ERAS® Protocols….