ERAS® Interactive Audit System (EIAS)
The ERAS® Interactive Audit System, EIAS, is a web-based data entry and analysis system used to facilitate the implementation of and monitor compliance to the ERAS® Protocols. The EIAS is a quality and decision support system that helps the hospital perioperative team ensure compliance to the ERAS® Protocols. Once implemented, EIAS gives immediate feedback regarding any deviation from best practice.
Furthermore, this allows the team to take advantage of the benefits of the ERAS® Protocol in terms of reduction in patient recovery time, rate of complications, and improvement of the quality of care. By continuous follow-up, analysis, adjustments, and improvements, the perioperative team and its management will not only ensure improved quality of care for the patient but also improved motivation of the staff involved through their increased understanding and developed engagement in the preoperative care process.
EIAS is:
Best Practice Tool – all users get immediate access to new treatment guidelines through the system.
Implementation Tool – hospital teams are supported in implementing best practice, retaining and sustaining it.
Quality Registry & Quality Improvement Tool – the system offers real-time analysis for continuous improvements.
Research Tool –  the EIAS is tailored for audits and prospective randomized clinical trials.
Take a look at how you can analyze your data efficiently and in real-time with the new ERAS® Interactive Audit System in the following video.
Picture A – Enter patient data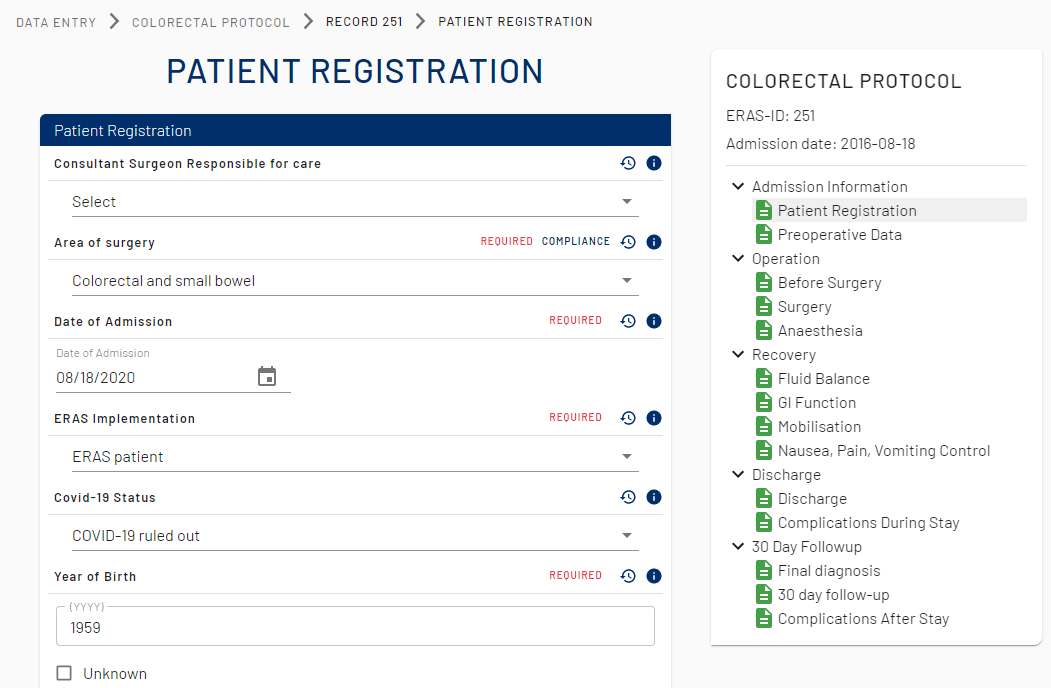 Picture B – Analyze and share data
Picture C – Adjust and improve based on known facts. No more guess work.
Please contact us for details on how to get on board with ERAS®.