ERAS® Interactive Audit System (EIAS)
ERAS® Interactive Audit System (EIAS) has been developed based on the published guidelines for best practice from the ERAS® Society. The EIAS allows the hospital staff to track the adherence to the ERAS® Society published guidelines as well as analyze the connection between compliance and outcomes to continuously improve the care process in the hospital before, during and after surgery. Further, the EIAS is a web-based data entry and analysis system used to facilitate implementation of and monitor compliance to the ERAS® Protocols. This tool is a quality and decision support system and ensures that compliance to the ERAS® Protocols, once implemented, is upheld, and gives immediate feedback regarding any deviation from best practice.
Furthermore, this allows the team to take advantage of the benefits of the ERAS® Protocols in terms or reduction in patient recovery time, rate of complications, and improvement in the quality of care. By continuous follow-up, analysis, adjustments, and improvements, the perioperative team and its management will not only ensure improved quality of care for the patient but also improved motivation of the staff involved through their increased understanding and developed engagement in the perioperative care process.
EIAS is:
Best Practice Tool – new treatment guidelines – all users get it directly via the system
Implementation Tool – helps hospital teams to implement best practice, to retain and sustain it
Quality Registry & Quality Improvement Tool – continuous updated results – real time analysis
Research Tool – the EIAS is tailored for audits and prospective randomized clinical trials
Take a look at how you can analyze your data efficiently and in real-time with EIAS in the following video.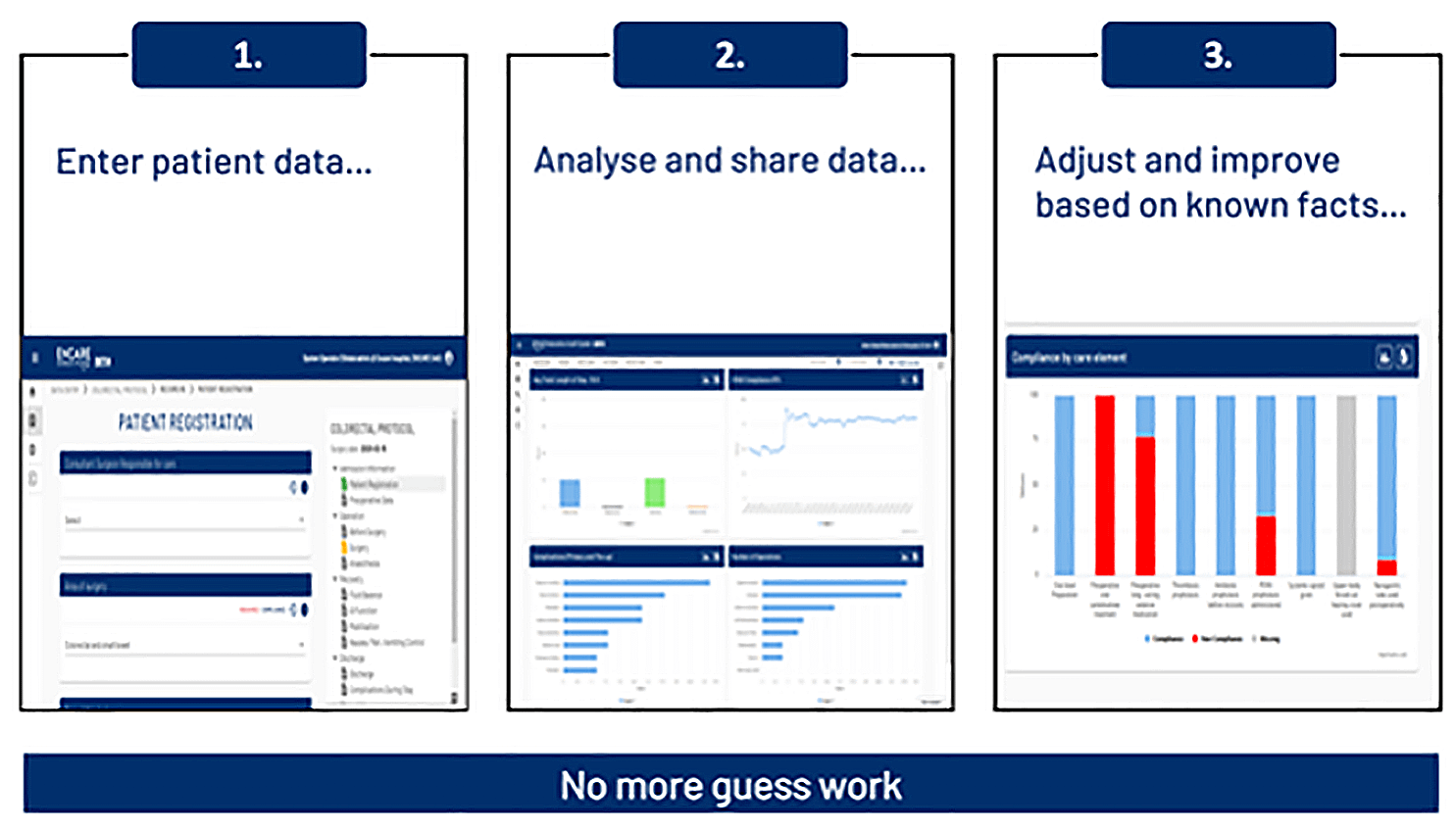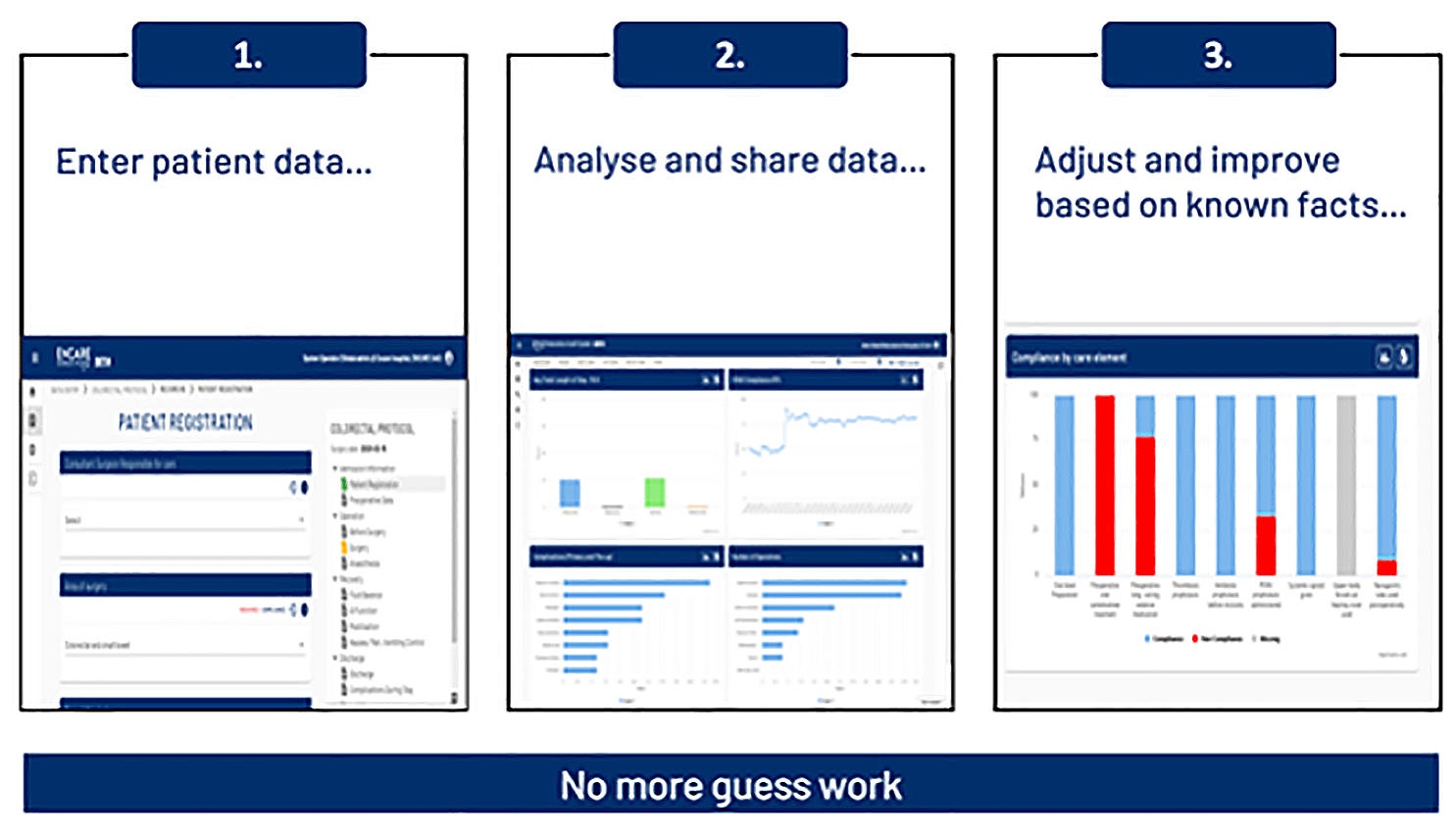 The EIAS ensures that the hospital perioperative team works in compliance with the ERAS® Protocols. Use the EIAS to analyze data such as complications, care time, etc. Further, it serves as an audit of their internal practices and see if they need to change anything to achieve higher compliance with the ERAS® Protocols and thus better clinical results.
The EIAS is a powerful, easy-to-use tool that helps you implement ERAS® and stay updated with ERAS® best practices. Complying to the ERAS® Protocols will help your team decrease complications after surgery and improve your patients' outcome, thereby shortening the length of stay.
Implementation Tool
EIAS helps hospital teams implement ERAS® and get full control.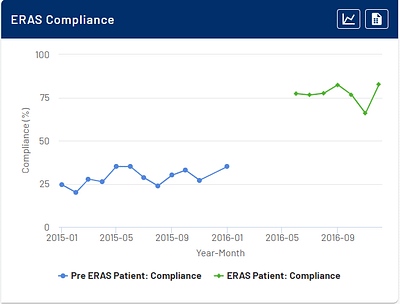 Quality Registry & Management Tool
Clinical data registry provides valuable information to hospital teams to audit and improve the care they provide to patients.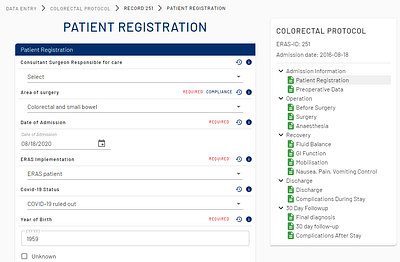 Best Practice Tool
EIAS helps hospital teams maintain and improve adherence to ERAS® guidelines – new features and protocols will be added with guidance from ERAS® Society.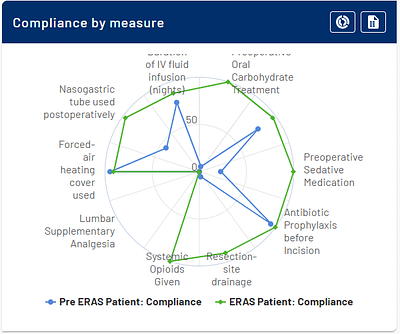 Research Tool
EIAS is tailored for audit research and prospective randomized trials.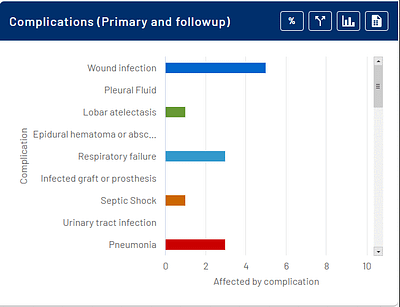 WHAT TYPE OF INFORMATION IS COLLECTED & REGISTERED?
To use EIAS for analyzing data, the hospital staff first collect and store a wide array of relevant information during the patient's perioperative journey, from pre-admission to discharge and follow-up. The type of information collected is specified in the guidelines and is relevant due to its role in enhancing recovery after surgery. For this reason, the data collected in the EIAS is generally organized around the perioperative process.
However, the main variables of interest are the compliance items. These are the items that are monitored when auditing to provide a measure that helps teams work towards improving care. These items have been identified by experts in the field as representing the evidence-based best-practice in perioperative care.
The following types of data are collected in the system:
Admission information: This is where relevant demographic information is collected as well as information on pre-existing conditions that may affect patient outcomes. Examples of these include admission date, year of birth, height, weight, BMI, nutritional status, alcohol usage, presence of heart disease or pulmonary disease.
Operation: This section covers the period immediately preceding the start of the operation, the operation itself, and information on anesthesia/fluids. Examples of these include type of procedure, duration of procedures, surgical approach (such as laparoscopic or open), type of anesthesia used, administration of PONV prophylaxis, volumes of IV fluids.
Recovery: This is where information on fluids, post-operative gut function and mobilization, post-operative pain and nausea are documented.
Discharge: Any complications during the primary hospital stay are documented here as well as discharge information.
Follow-up: Complications that occur after discharge are documented in this section
HOW IS THE INFORMATION ENTERED INTO EIAS?
Licensed hospital staff/users of the EIAS, are given access to the software as well as accompanying documentation and tutorials. In the data entry section of EIAS, users enter and review patient data. The user registers many variables, some general and some specific to an area of surgery. Most of the information required in EIAS can be found in existing patient records and would only need to be copied over to EIAS.
The same information can also be entered into EIAS using an Application Programming Interface (API) included in EIAS. The API enables the user to automatically have the EIAS data entry protocol forms filled in using existing data from your electronic health record system.
HOW IS THE DATA ANALYZED IN EIAS?
Once data is entered for ERAS® patients, the EIAS Analysis & Reports section is used to evaluate adherence to the ERAS® protocol, associated patient outcomes, and length of stay. The software allows a very flexible way to explore the data, drilling down on the details, and for discovering the connections between various data elements. The A&R is powerful because of the following aspects:
data from EIAS gives timely feedback on results in the system,
instant adjustment on methods is possible,
the results of your work can be communicated within your ERAS® team, and
progress and success can be visualized for team and outside hospital.