ERAS® QUALIFIED – University Hospitals of Ohio, Cleveland, USA
The colorectal surgery department of University Hospitals of Ohio, Cleveland, USA, lead by Dr Heather McMcFarland started their ERAS® Implementation Program in the midst of the pandemic and despite the challenges related thereto, they were able to master the implementation. Finally able to meet in person, they became ERAS® Qualified in connection with the ERAS® USA 5th Annual Congress on November 12. They were trained and coached by ERAS® Society representatives including Prof Tonia Young-Fadok of Mayo Clinic, Prof Olle Ljungqvist of Örebro University, ERAS® nurse Angie Balfour, Edinburgh and Sr Data Mgr Allyson Cochran, Atrium-Carolinas Medical Center. We wish them continued success in sustaining their good results and spreading ERAS® throughout the organization!
Ms Naomi Compton, the ERAS® Nurse Coordinator gives additional details about the implementation:
"In June 2022 I joined the Enhanced Recovery After Surgery (ERAS) team at University Hospitals as the full-time ERAS nurse coordinator. I was fortunate to inherit a robust system that had already rolled out 12 service lines to multiple different hospitals and had inputted the first 50 patients into the ERAS Interactive Audit System (EIAS). In addition, the first two stages of the ERAS Implementation Program (EIP) had already been completed. My role and that of the ERAS Operations Data Analyst, Magdalen Canitia, was to bring the program over the finish line. This meant improving some of our compliance measures and entering the patient data into the EIAS for evaluation.
The first time Magdalen and I entered a patient into the EIAS we met at a Starbucks and it took us three hours to enter one patient! Each question seemed impossible to find in our Electronic Medical Record (EMR) and I had a background working in PACU and IT utilizing our EMR, so I really felt as though I was an expert. Two people taking three hours to enter one patient seemed as though entering all of the patients we wanted to review was going to be impossible! Luckily over time, we became much quicker, we knew what information the EIAS system was looking for and could narrow it down to the few areas within our EMR where it would be documented. We finally streamlined the process so that we could enter a patient into the EIAS in about 20 minutes. The ensuing data and evaluation allowed us to gain a focus on protocol compliance improvement.
We chose to work on the post-operative time period and specifically two areas that we were struggling with; post-op weights and post-op ambulation. The EIAS gave us the ability to monitor these two measures and we saw a significant improvement in our compliance and a subsequent improvement in patient outcomes. This led to an increase in the overall ERAS compliance measures, and we presented the University Hospital data at the 5th annual ERAS USA conference in Washington DC. Following the EIP and using EIAS allowed University Hospitals to become an ERAS Qualified Center.
In the future we are going to continue to use the EIAS to input patients on a regular basis, we will then use this information to continue to grow and perfect the University Hospitals ERAS program. We have come a long way from that initial three-hour session at Starbucks!"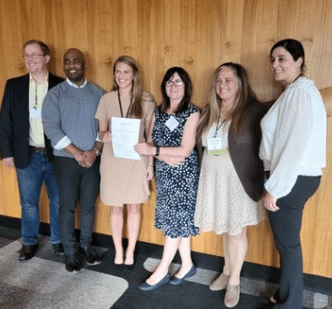 For more information on how to implement ERAS® please see here.